Committed to a sustainable future
The Environment
We operate with one eye on ensuring a sustainable future for all. All our staff receive the latest environmental advice and take pride in playing their part. You can also help to improve your carbon footprint with hardware and consumable products that minimise carbon emissions and environmental degradation. At our Headquarters and Diagnostic Centre we recycle all packaging and transportation pallets with the help of Sharp UK Ltd. We take pride in:
Super Green Products
Providing environmentally friendly technologies and products in partnership with Sharp UK a certified Carbon Trust Standard holder.
Super Green Factories
Minimising the eco-footprint of our working environments and service processes, abiding by WEEE directives.
Super Green Processes
Environmentally optimising our logistics and packaging.
Super Green Technologies
Communicating environmental themes to our customers.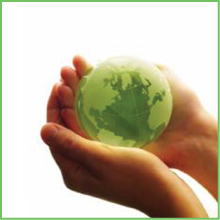 Living in Harmony with People and the Earth